My favourite aspects of the Paris Design Week 2019
4th October 2019
Design + Art
Exhibition
The Paris Design Week was the International Capital of Design for an entire week. With more than 100 designers from all over the world exhibiting their latest creations, it transformed the city in a window into international design.
The interior design amateurs' long-awaited event of September, the Paris Design Week, treated us with over 200 design places, along 9 themed walks, across 4 districts of Paris: Saint-Germain Des Prés, Les Halles-Marais-Bastille, the Opera-Concorde-Etoile and Barbès-Stalingrad-Marché aux Puces of Saint-Ouen.
Let me share my favourite places and installations
'The Fountains' by the Bouroullec brothers on the Champs Elysees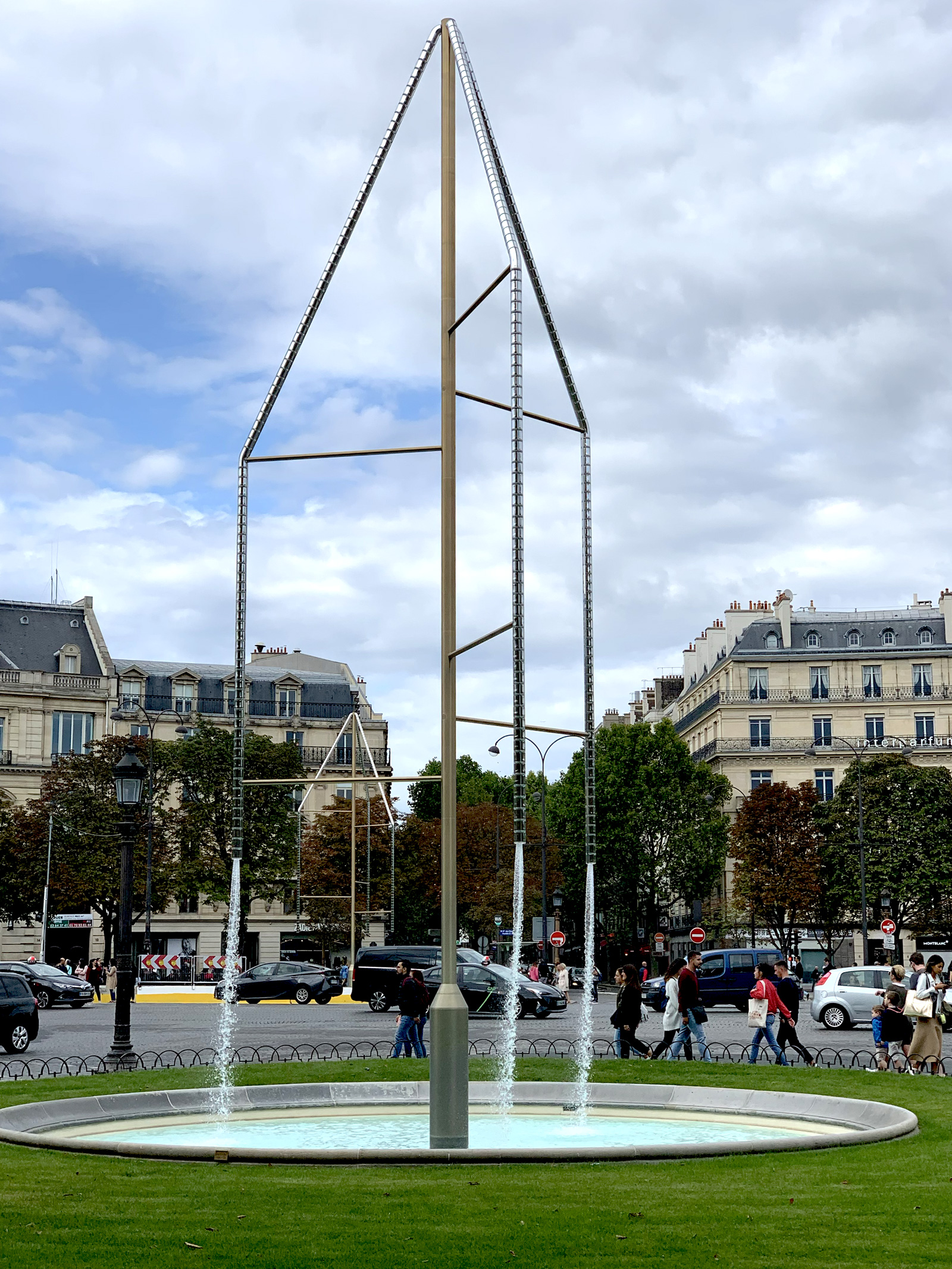 With simplicity as their guide, the designers have created an installation comprising 6 identical fountains, each set in a pool of a height of 13m.
Each pool has a soaring bronze mast covered in branches, from which water trickles along a crystal chain, lit up at night.
It is a totally successful urban project: a statement of a great design with a poetic feel!
'Envolée lumineuse'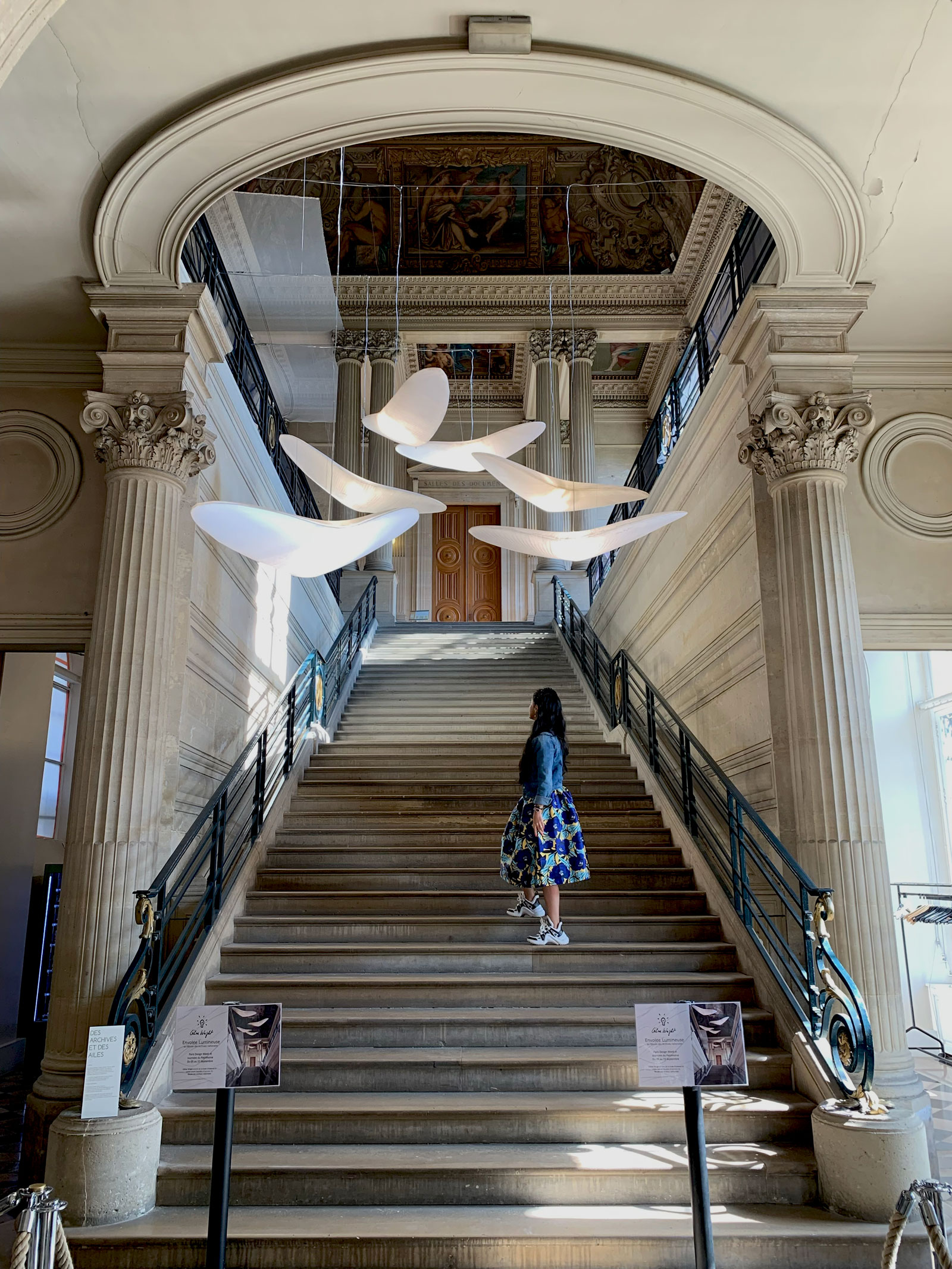 I really loved Celine Wright's creation !!
A magical flock of birds, made of Washi paper, are lighting the grand staircase of the National Archives Museum.
'I AM A STOOL'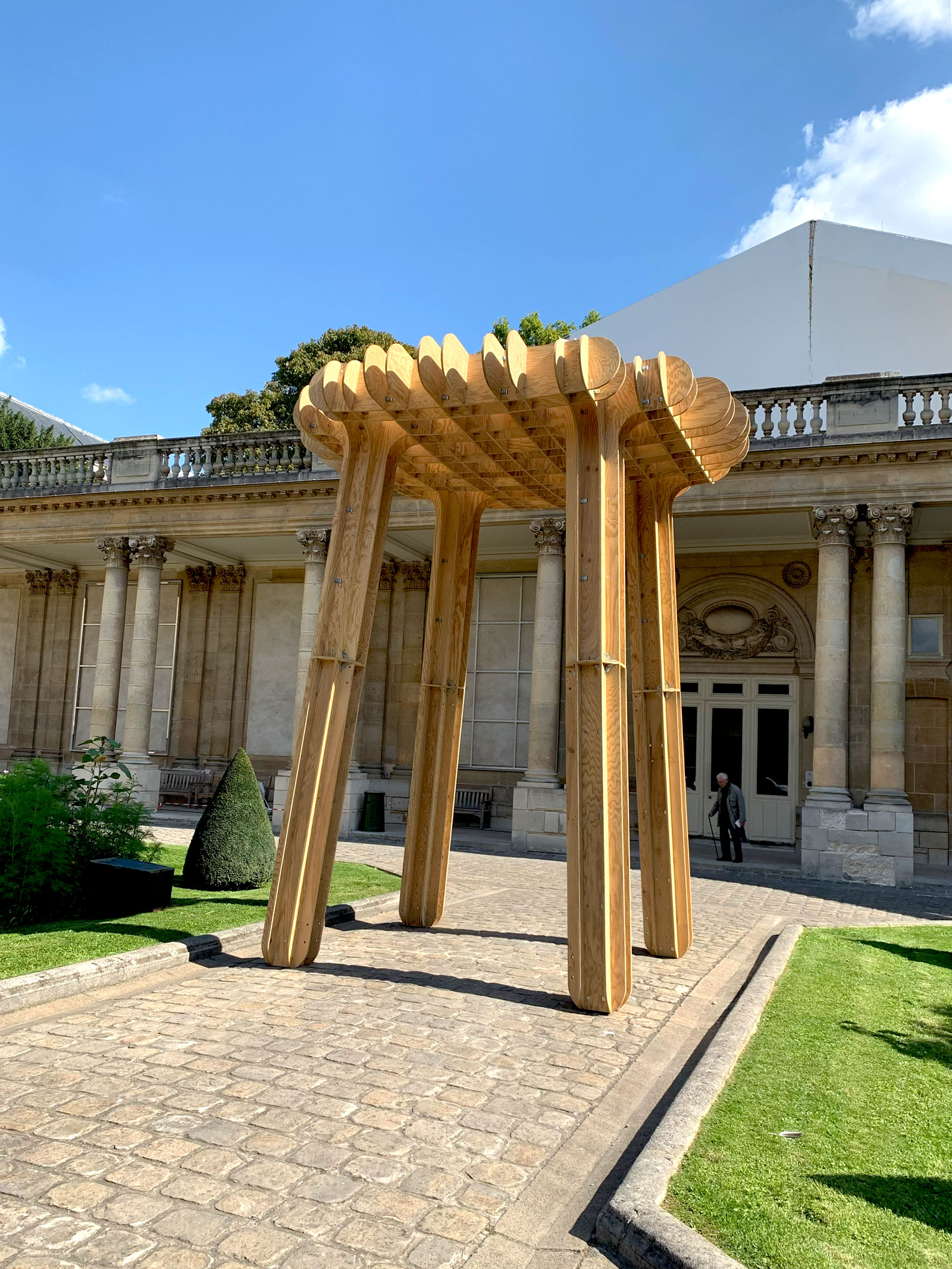 This is to make reference to 'I am a monument' by Robert Venturi and Denise Scott Brown.
This giant stool was made entirely in France by Ubik.
Make a monument out of a seat is changing our perspective and challenging our relationship with the object, inviting the spectator to reinvent its meaning.
A real success!
'Métamorphoses' by AD interiors
AD interiors celebrated their 10-year anniversary! This exhibition showcases, each year, the work of interior architects and designers selected by the AD Team.
It was set in a building which is being subject to ongoing transformations. Set up as a visit through a 'working site', the designers have each created a living space, (living room, kitchen, bedroom, office, bathroom, etc.) that captures their world and their expertise.
This was just unmissable in my opinion. It was a delight for the eyes and an endless source of inspiration, launching new visions and new life styles.
My personal selection is as follows:
The 'Spanish Pergola' by Laura Gonzalez.
It is colourful and full of charms!
The panoramic wallpaper by Degournay, representing a landscape from the south of France, really caught my attention.
The 'Rest Room' by Bismut Architecture
The incredible hammock made by Ecart International is unquestionably the centre piece of this design.
The 'Neoclassical Bathroom' by Humbert & Poyet
The incredible bath made of green marble monolith set in the middle of the room like a throne, injects strength and energy, whereas the low relief of distressed metal and faded frescos bring subtlety and sensuality.
It is a simply divine bathroom!
The 'Reflecting Bedroom' by Thierry Lemaire
Thierry, who is keen on the glamour of the seventies, has given a second life to this décor made of mirrors, created at that time by the design artists duet, Valerian Rybar and Jean-François Daigre.
The bedroom is absolutely sensational and an ode to masculine luxury with its styles and materials from mixed periods.
A 'Collector's Lounge' by Pierre-Yves Rochon
This design is definitely sumptuous, with an intended graphic approach, using a range mixing black and white.
The Art Deco woodwork and the contemporary artwork show the designer's taste for classic elegance.
My favourite Decoration items:
'Ro's World'
Rossana Orlandi, well known all over the world as one of the greatest experts in design, has brought to Paris, in the centre of the Marais district, for 'Design Italia', a selection of iconic pieces, usually displayed in Milan and Porto Cervo galleries.
She describes 'Ro's World' as the representation of an incredible imaginary dialogue between all the displayed pieces. This really reveals her signature, style and taste: original and unusual !
The 'Sign of the Times' exhibition by Reda Amalou Design
In this exhibition, Reda offers his creations as well as his reflections from the last five years.
In a world where everything is functional, each object leaves a trace and becomes a Sign of the Times.
We go through rooms full of furniture and items of decoration making our journey a moment of pure enjoyment…
'Raw' Rugs Collection designed by Noé Duchaufour Lawrence for Tai Ping
This new collection, made of five main models, explores textures and volumes from the world of minerals, which is a favourite theme of the designer.
Mixing delicately materials such as wool, silk, jute and Lurex, these rugs seem to have been carved out of rock.
He succeeded in bringing 'inside the home, a smooth and delicate anchor'.
If you are a rug amateur, go and check it out urgently
'La Vie en Rose' Exhibition by Made in Design & Printemps
This was the ideal place to fine tune our existing decoration or simply unearth new items.
Finally, it would be missing an important initiative by the Paris Design Week, not to mention the exhibition OFF, which aims at revealing new talents.
This year's edition introduced 100 selected young talents to showcase their creations, but also perhaps to snatch their first orders.
I really loved the modular Sofa 'Addera' designed by the young and talented Felicia Arvid